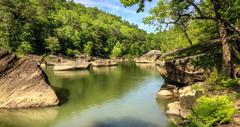 © Courtesy of Eric – Fotolia.com
Land Between the Lakes National Recreation Area oversees more than 170,000 acres of forests, wetlands, and open lands. Covering a peninsula between Kentucky and Tennessee, the popular recreation area is one of the largest parcels of undeveloped forest in the eastern United States.
300 miles of natural shoreline surround the lake within the recreational area. Fishing, hunting, boating, kayaking, and picnicking are some of the pastimes that people like to enjoy here. For a historical experience, guests can visit the Homeplace 1850s Working Farm or head to the Woodlands Nature Station.
You are reading "25 Best Places to Visit in Kentucky" Back to Top or More romantic weekend getaways, more places of interest in, wedding venues near me, time zone, what to do
Romantic resorts, dog friendly cabin, boutique inn, B&B, hostel, photos, maps, discounts, conference, couples retreat, shows, good food near me, things to do with kids near me, weather, airport, vegetarian, seafood, breakfast near me, indoor, outlet mall: Amarillo, WA, AL, College towns, MI, AL, MI