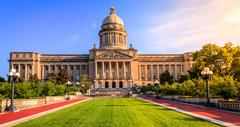 © Courtesy of aylerein – Fotolia.com
Located on the outskirts of Frankfort, Cove Springs Park is a beautiful 240-acre nature preserve and park that consists of wetlands, waterfalls, streams, springs, forests, ravines, and a number of historic features such as ruins of old stone dam and a crumbling limestone overflow tower.
The park is great area for hiking – there are six trails that total three miles together – environmental education, nature observation, picnicking, throwing Frisbee, and much more. Part of one trail is an elevated walkway over wetlands, and it has a number of interpretive signs. There are also two shelters with interpretative displays on the historic and natural features of the park.
100 Cove Spring Rd, Frankfort, KY 40601, Phone: 502-223-6965
More Kentucky ideas: wedding venues, amusement parks, Cave City, Bowling Green
You are reading "What is There to Do with Kids in Frankfort, Kentucky" Back to Top or More tourism, attractions for couples, food, things to see near me today
Top things to see near me, beaches, cruises, parks near me, underrated tourist attractions downtown, travel blog, attractions, places near me right now, things to do near me, vacations, resorts near me, family weekend breaks, mountains, open now, tonight, breakfast near me, affordable rental, kids activities near me, campgrounds near me: Catskills, Pink Sand beaches, Best Places to Visit, Bar Harbor, Destin, Minneapolis, Jacksonville, Wedding, Key West, Nashville, AZ
, From LA