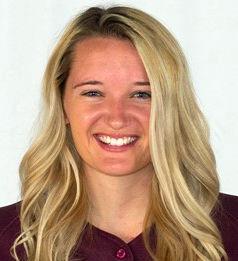 ATHENS, W.Va. — Former Clarke County softball standout Dani Bloomingdale (class of 2017) was recently hired to be the assistant softball coach at her alma mater, NCAA Division II Concord University.
A four-year starter, Bloomingdale will assist head coach Alyssa Morris, who was hired earlier this month after previously serving as the head coach at Union College in Barbourville, Ky.
An outfielder for the Mountain Lions from 2018-21, Bloomingdale appeared in 139 games (123 starts). Bloomingdale was a career .261 hitter with her best season coming in 2019 when she batted .340 (34 for 100) as part of CU's 38-21 season. Bloomingdale was also made the All-MEC Tournament team in 2019.
Volleyball: Millbrook 3, Hedgesville 1
WINCHESTER — Millbrook defeated West Virginia Class AAA state semifinalist Hedgesville by the scores of 25-22, 31-29, 16-25, 25-19 on Wednesday in its home opener. The Pioneers are 2-0.
Millbrook leaders: Madison Koeller 40 assists, 5 kills; Autumn Stroop 24 digs; Madelyn White 20 kills, 5 digs; Ariel Helmick 18 kills.
Handley 3, Heritage 1
WINCHESTER — Handley improved to 2-0 by winning its home opener over Heritage in a non-district match by the scores of 27-25, 25-22, 15-25, 25-15.
Handley leaders: Anna Prosser 9 kills; Lindsay Pifer 9 aces, 14 assists, 5 kills. 
SU's women's soccer picked 7th
The Shenandoah University women's soccer team is the preseason No. 7 selection of the ODAC coaches in poll results released Wednesday.
Shenandoah, which went 3-6 in its pandemic-delayed season in the spring, has 76 points in the 13-team poll.
Defending champion Bridgewater is picked to repeat. The Eagles have 138 points and seven first-place votes. Washington & Lee (four first-place votes) is second with 133 points, Virginia Wesleyan is third with 119 and Lynchburg (two) is fourth with 116.
Voting was done on a 12-1 basis with coaches unable to vote for their own teams in the poll.
Shenandoah opens its season next Wednesday with a 4 p.m. non-conference home game versus N.C. Wesleyan.
— Compiled by Robert Niedzwiecki