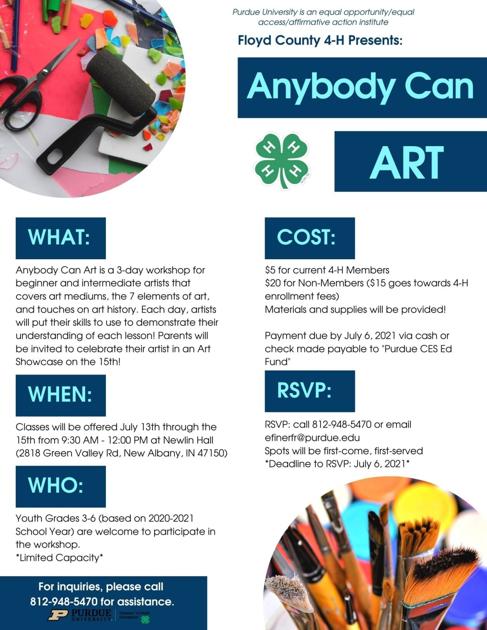 Anybody Can Art Club
Floyd County 4-H will present the Anybody Can Art SPARK Club, a short-term club that will provide interactive experiences for youth interested in learning more about art. Anybody Can Art will take place July 13th through the 15th from 9:30 a.m. to – noon at Newlin Hall,2818 Green Valley Rd. New Albany.
Anybody Can Art is a three-day workshop for youth, grades 3-6, that will cover art mediums, the seven elements of art, and touch on art history. Each day, artists will put their skills to use and demonstrate their understanding of each lesson through creative, hands-on art projects. To round off the day camp experience, parents will be invited to Newlin Hall to celebrate their artist in an Art Showcase on the 15th.
Anybody Can Art registration is going on now. The cost for current 4-H members is $5 and $20 for non-4-H members. For non-members, $15 of your Anybody Can Art registration fee will be rolled forward into 4-H enrollment. Registration ends July 9th, so act fast. Space is limited.
For more details, contact the Purdue Extension Floyd County Office at 812-948-5470 or email the Floyd County Extension Intern Emma Finerfrock at efinerfr@purdue.edu
Crusade For Children Grants
Agencies, schools and hospitals that serve children with special needs in Kentucky and Indiana received great news from the WHAS Crusade for Children this week.
One hundred percent of the $5.1 million collected this year was awarded in the form of 225 grants to help make life better for the children.
The Crusade grant award notifications were sent out June 28 to let the agencies, schools & hospitals know their grant requests will be funded from the $5,100,000 collected during the 68th WHAS Crusade for Children telethon.
Local grants were awarded to:
• Big Brothers Big Sisters of Kentuckiana, $7,000
• Borden-Henryville School Corporation, $10,000
• Boy Scouts of America Lincoln Heritage, $12,000
• Boys & Girls Clubs of Kentuckiana, $15,000
• Clark County Youth Shelter & Family Services, $15,000
• Communities in Schools of Clark County, $9,500
• Community Action of Southern Indiana, $21,000
• Floyd Memorial Foundation, $33,626
• Greater Clark County Schools, $20,000
• Jeffersonville Township Public Library, $3,000
• LifeSpring Health Systems, $2,766
• New Albany Floyd County Schools, 31,000
• Our Lady of Providence High School, $16,000
• Rauch, $14,000
• Silver Creek School Corporation, $20,000
To view a complete list of all groups that made donations during the 68th annual Crusade, go to www.WHASCrusade.org.
Clark's Grant Historical Society
The Charlestown Library meeting room will be re-open in August, and the Clark's Grant Historical Society will meet Aug. 16, 7 p.m., at the library.
The club is itrying to re-schedule some of the programs missed last year.
Meetings are held the third Monday of each month at 7 p.m. at the Charlestown Library, 51 Clark Road, Charlestown. All meetings are open to the public.