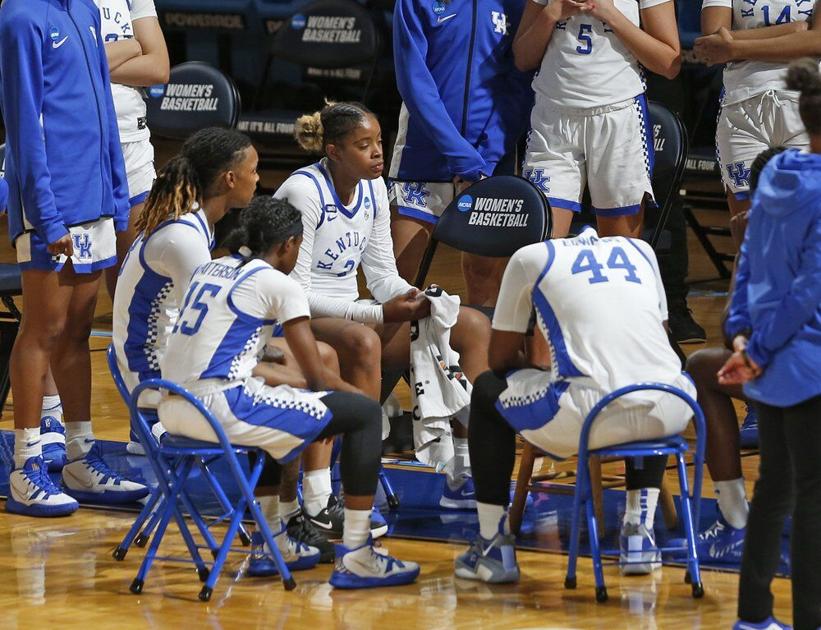 LOUISVILLE, Ky. (WDRB) — The scouting reports said the University of Kentucky women's basketball team was matched against one of the best freshmen in America when the Wildcats played Caitlin Clark of Iowa on Tuesday.
Turn up the hype. Against Kentucky, Clark played like one of the best freshmen, sophomores, juniors or seniors. The Hawkeyes routed the Wildcats, 86-72, in the second round of the Riverwalk Region of the NCAA women's tournament. The Hawkeyes led by as many as 27.
Clark, the nation's leading scorer, had 35. Jumpers. Drives. Off the catch. Off the dribble. In the lane. On the perimeter. Clark had a move as well as an answer for everything Kentucky tried, including full-court pressure. She outscored the Wildcats in the first half, 24-22.
UK coach Kyra Elzy said the Wildcats defended Clark with a "star" defense approach, which meant guarding her one-on-one without help but rotating different players. The idea was to deny her the ball and face-guard (block her view) whenever possible.
"I thought she hit some really tough shots," Elzy said. "She's a phenomenal scorer."
"She was taking tough shots and she was hitting," UK guard Rhyne Howard added. "There's not much more we could have done."
Clark made 13 of 21 shots, including half of her dozen shots from distance.
"I think it all stared on the defensive end for us," Clark said on ESPN2 after the game. "Kentucky's a great team. We had so many players step up.
"I knew this was kind of a shooters gym, so I felt like I was going to shoot it well honestly … I was definitely aggressive from the start."
Her 35 points exceeded her 26.5 average. It was the most points scored by any player in the 2021 tournament as well as Iowa NCAA Tournament record.
Oh, Clark also contributed six assists and seven rebounds.
The Wildcats, a No. 4 seed, finished with an 18-9 record. Iowa's total equaled the most points UK allowed this season.
"When you're not playing good defense, anybody can score on you," Howard said.
Iowa is likely to play No. 1 seed Connecticut in the Sweet Sixteen. UConn is led by the nation's other top freshman: Paige Bueckers.
Howard, Kentucky's All-American, struggled for much of the game. She missed her first five shots. Howard rallied to score 21 of her 28 points in the second half after the game was decided.
"Sometimes the shots are just not going to go in," Elzy said. "That's part of basketball."
Iowa scored the game's first 11 points. The Hawkeyes led 21-11 after one quarter. They stretched their advantage to 49-22 at halftime when Clark had 24 points.
"We let our offense affect our defense," Elzy said. "We didn't offer enough resistance."
Listed at 6 feet tall, Clark showed the ball-handling skills and ability to change direction while weaving through Kentucky's full-court press. She was ranked the nation's No. 4 recruit by ESPN at Dowling Catholic High School in West Des Moines, Iowa. Tuesday's game was her 12th 30-point performance this season.
"Today wasn't our day," Elzy said. "It was a disappointing finish."
Copyright 2021 WDRB Media. All Rights Reserved.