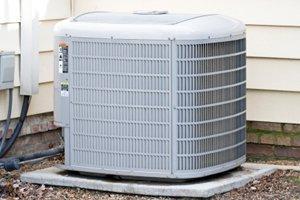 AC Installation Cost Averages
| | |
| --- | --- |
| Average Cost | $5,643 |
| Typical Range | $3,813 and $7,477 |
| High Cost | $11,000 |
| Low Cost | $1,700 |
Central Air Conditioner Prices
On average, expect to pay between $1,500 and $4,000 for a central air conditioner. However, the price varies greatly depending on your needs. And installation costs can make the price soar quickly. To get an accurate idea of what you'll spend, determine the size of the unit you'll need. Then, look at different brands.
Central AC Prices by Brand
Aire-Flo: $1,700
Amana: $2,600
American Standard: $3,200
Armstrong: $2,000
Bryant: $2,200
Carrier: $3,200
Coleman: $1,700
Comfortmaker: $1,700
Frigidaire: $2,900
Gibson: $2,300
Goodman: $2,100
Heil: $2,600
Lennox: $3,400
Payne: $1,400
Rheem: $2,500
Ruud: $2,400
Tempstar: $1,800
Trane: $3,300
Whirlpool: $1,900
York: $2,800
Various manufacturers produce cooling units, and there are pros and cons to each. So, consult with a professional about what you need and ask about additional features that may benefit your home.
Pros Quickly Calculate the Perfect AC Size for Your Home.
AC Costs by Type
Central system: between $3,813 and $7,477. Uses duct system that's usually combined with the heating system to cool a whole house
Ductless split systems: $2,000-$14,500 installed. Either as mini-split (ductless) or central systems that are installed as inside and outside units
Window air conditioners cost $150-$500 installed. Added in windows as a singular AC system
Portable units: prices vary but align closely with the cost of window units. They come as a split, hose or evaporative system for ease of movement around the house
Make an informed decision about what kind of AC system you need before getting a unit installed or replaced. The type of system you choose determines a large percentage of your overall cost. For example, if you decide to have a split or central system installed, you will need to hire an air conditioning professional.
Ductless Mini Split AC Systems
A ductless mini-split AC costs between $2,000 to $14,500 to install. This is a great option for homes without existing ducts and vents from a furnace or other heating system. The cost of installation for ductless units is nearly equal to the cost of adding a new central air conditioner, but only if a duct system exists. Adding ducts and vents doubles the total project cost.
AC Installation Cost
Most homeowners report spending between $3,813 and $7,477 to install an air conditioner. The size of the unit needed for your home and your energy efficiency needs helps determine the type of air conditioning system to install.
Here are some professionals that may be involved in your AC installation:
Air conditioning contractor: he or she performs an assessment to determine what kind of system you need and installs it
Assistant(s): additional team that helps with the wiring, ductwork and metal bracket mounting
In addition to the price of labor, pros will charge you for the materials involved in the installation – like the AC unit and chemicals. Check with your contractor to see whether you can cut costs by buying the air conditioning system yourself or using the existing heating system ductwork in your home.
3-Ton AC Unit Installed Price
Installing a 3-ton AC unit averages $3,800. But this cost varies greatly and can be as high as $5,000 or more. Be sure to consult a pro to get the most accurate estimate for this project. Or, try out this AC size calculator below.
Cost of 4-Ton AC Unit Installed
Expect to pay about $4,200 to install a 4-ton AC unit. But different cost factors mean this project can cost as much as $5,000 or more. Only an experienced professional can give you an exact number for this project, so be sure to get in touch with a contractor for more information.
14 SEER AC Unit Cost
Installing a 14 SEER AC unit is between $3,000 and $6,000. But the higher the SEER rating, the more energy efficient it is. So, this model could save you money over time.
Learn more about SEER ratings and tax breaks below.
16 SEER AC Unit Cost
A 16 SEER air conditioner runs from $3,700 to $9,000 to install. Though more expensive, this model is more energy efficient than a 14 SEER unit. There's also an opportunity for a tax break until December 31, 2020.
Cost of Central Air for a 1,200 Square Foot House
The cost to install central air in a 1,200 square foot home sits between $3,000 and $4,000. Of course, this price varies based on the SEER rating of the unit, and whether or not the home requires ductwork installation or repair.
Get an AC Unit Installed by The Best Pre-Screened Pros In Your Area.
Air Conditioner Replacement Cost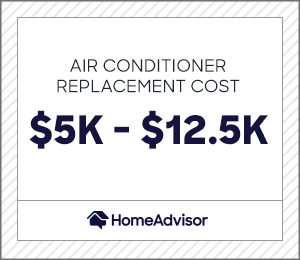 The cost to replace a central air conditioner is about $5,000. However, this price varies depending on the size of your home and the difficulty of the project. It can cost as much as $12,500 to replace an AC unit. The labor required to remove and dispose of the old system adds to the price. The size of your home, brand of AC unit and ductwork complexity can all raise the cost as well.
Air Conditioner Installation Cost Considerations
Need more information on cooling systems before you invest? While an AC professional has all the know-how about these systems, here are some facts you should know going into the installation project.
Air Conditioner BTUs Per Square Foot
On average, you'll need about 18 Btu capacity per square foot. But anywhere from 14 to 26 Btu capacity per square foot is acceptable. Follow these steps to see how much Btu capacity you'll need
Figure out the square footage of the room. For a square room, multiply length by width. For a triangular room, multiply length by width and divide by 2.
There's a chart you can reference in stores that will tell you what size machine you will need. If you want a system for a whole house, it's a bit more complicated and will require professional assistance.
| Area to be Cooled (sq. ft.) | Capacity (Btus per hour) |
| --- | --- |
| 700 – 1,000 | 18,000 |
| 1,000 – 1,200 | 21,000 |
| 1,200 – 1,400 | 23,000 |
| 1,400 – 1,500 | 24,000 |
| 1,500 – 2,000 | 30,000 |
| 2,000 – 2,500 | 34,000 |
"If you're replacing an existing AC, make sure the size of the new system takes into account any changes in your cooling needs. If you recently improved your home's overall energy efficiency with new windows or insulation, you can probably go with a smaller unit." Dan DiClerico, HomeAdvisor Smart Home Strategist and Home Expert.
The first major factor in determining what kind of air conditioning system you'll need is the size of your home. They're measured in tons or the amount of heat they can remove from a home in one hour in British thermal units (Btus).
The larger your house, the more cooling power you'll need. However, bigger isn't better in every scenario. If the system is too large it will cycle on and off all the time, wasting energy and emitting a loud, disruptive sound. On the other hand, if the system is too small, it will run constantly and cool your house inefficiently.
Adding Central Air to Forced Air Heat
Many central air conditioning systems use the furnace blower to distribute cool air through the home. If you do not have a central heating system installed, it is cost-effective to install a heating and air conditioning system at the same time. If you already have central heat, you can use the existing fans and duct system for the central air system.
Although most new homes have ducts and vents already in place, many older homes have old convection heating systems or baseboard heaters without ductwork. In such cases, you will need to install ducts and vents to provide the air conditioning with a flow system. This would be the time to explore upgrading the existing heating system as well, as it will be much cheaper to do together. Consider a split ductless system, which uses small tubes to distribute cool air throughout the home, eliminating the need for large ducts and vents.
How's the insulation in your home?
If you have a well built and well insulated home, your heating and cooling systems will work more efficiently and save you money. If you have poor insulation, you will spend considerably more on utility bills. Explore the costs of new insulation or upgrading your old insulation as it might save you money in the long run.
Get the Best Price for Your AC Installation. Compare Quotes from Pre-Screened Pros.
The will offer a tax credit until December 31, 2020 to incentivize homeowners to purchase energy efficient home products. Energy efficient air conditioning units must meet standards set by the Consortium for Energy Efficiency (CEE). Check this EnergyStar page for the most recent news on tax breaks for AC installation.
To qualify for the tax credit from the federal government, you must save the manufacturer's certificate from your system. The IRS doesn't require the certificate at the time you file your federal tax forms, but they recommend keeping it with your records in case of an audit. It proves that you purchased a qualifying product. The government offers tax credits for:
Split-system air conditioners ($300): SEER>=16 or EER>=13
Packaged air conditioners ($300): SEER>=14 or EER>=12
Determining Air Conditioning Unit Quality
Ask these questions during your central air installation to ensure its quality and optimum performance for years to come:
Is it sized correctly? The equipment must be the right size to provide the best performance for your home. That's why professionals measure your home and do load calculations.
Is the duct system right for the AC unit? Ducts that are damaged, leaking or missing in spots will affect performance. Your contractor will repair and install more ducts if needed, so everything works at its highest caliber.
How is the airflow? Airflow must be just right; otherwise, you could see an increase in your bill or hot spots in rooms of your home. A contractor can measure the volume and adjust ducts or vents for optimal airflow.
What about the refrigerant? Refrigerant is what cools the air flowing through your home while its liquid is consumed into the HVAC system. If there isn't enough, it could result in more energy consumed and more moisture in the air. The HVAC professional will check the charge of the refrigerant and adjust it if needed.
Central Air Conditioning Warranties
Any newly installed air conditioning unit will come with a manufacturer's warranty. The length will vary depending on the manufacturer. Warranties generally last from 5 to 15 years; it's safe to expect an average length of 10 years.
The manufacturer's warranty covers the equipment and parts in the machine. There is also the contractor's warranty, which covers the labor for AC repairs and additional work such as encasing the air conditioner in protective metal, wiring it to the home and so on.
Products with indoor air quality (IAQ) modifiers have a separate warranty that's less than that of a central AC unit, so keep that in mind when investing in such products. You may also invest in an extended warranty, which can cover:
Cost of replacement parts
Additional years for repair costs by a third party (i.e., no out of pocket expenses)
Coverage by the manufacturer
Extended warranties are expensive and generally cost more than maintenance. There are also strict limitations on the warranty that will likely require paying for repairs upfront and following up repeatedly for the reimbursement. You may also end up paying for a system you have replaced in less than 10 years if you move out of the home or upgrade.
Don't Void Your AC's Warranty. Hire The Best AC Installer In Your Area.
AC Unit Size Calculator
The general rule is that every 500 or 600 square feet requires one ton of cooling. However, this calculation varies depending on your home and contractor.
Your contractor will do a load calculation to determine the proper central air conditioning unit for your home. This calculation accounts for the climate, size, shape and orientation of your home, as well as its square footage. A professional will also look at the insulation, windows, walls, floors and other materials that compose your home. He/she will then examine any leaks, seals and existing ducts or vents.
Cooling professionals use a variety of computations to analyze the characteristics of your home air conditioner and determine how much air it will lose. Factoring in environmental considerations like geography and solar rays, professionals can decide which system will best cool your home. Many refer to load calculating as the Manual J methodology.
There are two types of Manual J load calculations:
Whole House: Provides the load calculations for a whole house with an existing duct system.
Room by Room: Used for calculating the loads in every room of a house, which contributes to determining individual duct sizes and layout of a duct system
DIY vs. Hiring an AC Installer
You cannot do a central air installation as a DIY project because it involves handling refrigerant, which cools the air. The Environmental Protection Agency (EPA) must license professionals before they can handle this harmful chemical.
However, once installed, it is possible to do DIY maintenance on your air conditioner. You may have to purchase some cleaning materials and set aside some time for this task, but it could save money in the long run. Or, you could pay the cost to clean your ducts and vents professionally.
FAQs
What are EER and SEER Ratings?
SEER Ratings
An air conditioning system's SEER is especially important if you live in a climate that changes temperature dramatically. The SEER is determined by the cooling output during the winter divided by its electric input during the winter. The higher the rating, the more efficient it will be. In January of 2006, the U.S. put standards in place for cooling units which are still in effect today. They must have a minimum SEER of 13. So, if you live in a home with a system installed before the new standards went into effect, consider having it replaced. SEER 13 units increase home efficiency by 30 percent.
EER Ratings
An EER certifies the cooling efficiency of HVAC units. It's calculated by the rate of the cooling in British thermal units (Btus) per hour and divided by the rate of energy input in watts at a specific temperature. The calculation goes as BtuH/WATT at dry bulb (db) versus wet bulb (wb) temperatures. The optimal rating for a cooling unit is about 80db/67wb inside and 95db/75wb outside.
What is a British Thermal Unit?
British Thermal Units (or Btus) are the amount of energy needed to cool or heat up one pound of water by one Fahrenheit. It's used to measure heating and air conditioning units in Btu per hour. Homeowners can determine what size air conditioner they need by following the steps provided above.
What ton AC unit do I need?
You can consult with a pro to discover the AC unit size you'll need. The most common are 3-ton and 4-ton. Or, calculate AC size yourself.
What is the best AC unit?
The best cooling unit for your home will be the most energy efficient and the least expensive to run. Professionals can help you figure this out.
Does central air add value to a home?
Whether or not central air adds value to your home depends on your location. You probably won't recoup the entire cost for the installation, as it is an expensive project that isn't as flashy as something like a new deck. But this invisible upgrade can help you sell your home if you live in a hot climate. And many buyers are willing to pay a bit more for a working AC.
Is central air worth the cost?
Deciding if central air is worth the cost depends on your needs and local housing market. If you live in a hotter climate, it can definitely be worth the price. Not only can it keep your home at a comfortable temperature, but air conditioning can even save lives during extreme heat waves. But in a milder zone without severe temperatures, window units, fans or the breeze from an open window could be adequate.
How long do AC units last? How often should you replace your air conditioner?
Most AC units last up to 15 years. But if you use it frequently and don't maintain it, the system could require replacing much sooner. You should replace your air conditioning once it is out of date or stops working properly.
How long does it take to install central air conditioning?
Depending on the project, it can take 1 to 5 or more days for a pro to install central air conditioning. AC replacements take more time, as do projects with extensive ductwork repairs or installations. This extra time can range anywhere from an additional day to another week!
Have More Questions? Ask a Local AC Installer.