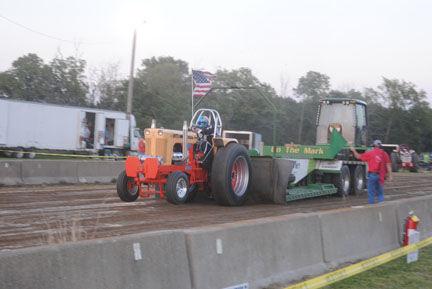 This year's Lynn Lion's Club Fair, one of the club's biggest annual events featured three nights of truck and tractor pulls over the weekend. Jordan Austin of the Lions Club has been in charge of organizing the event for over a decade.
Unfortunately, the company that provides the carnival rides for the event had a prior commitment and could not attend. Regardless, there was still plenty to do at the event. Several food trucks were on hand serving an assortment of delicious fare. Among them were Ky's Kreations of New Castle, Indiana; Ma & Pa's Kettle Corn of  New Weston, Ohio; Mike's Family Concessions of Union City, Indiana; Bowman's Concessions of Greenville, Ohio; Abby's Crazy Snacks of Union City; JD's Twisted Pig BBQ of the Dayton, Ohio area; and Homefire Pizza who's oven can be frequently found in Losantville and Parker City, Indiana. "If you leave here hungry, it's your own fault," joked Austin. There were also several vendor booths, some inflatable balls and games for the kids to enjoy, and even a farm toy show. The Vintage Country two-piece acoustic band provided live music for two nights of the event, before the tractors began pulling.
Although a bit cool for this time of year, the weather for the event was excellent overall. A number of people, from all over the region enjoyed the event. On Saturday, the 20th Anniversary of the 9-11 Terrorist Attacks, the tractor pull opened with a fitting tribute to our first responders. The crowd stood for the singing of the "Star Spangled Banner," and showed their appreciation for all of the first responders in attendance.
The event began at 7:00 PM on Thursday with 11 classes of antique tractors which pulled well into the night. Friday night saw a mix of tractors and trucks as did Saturday night. Pullers from Indiana, Ohio, Kentucky, Illinois, and Michigan took part in the three-day event.
"We'd like to thank all of the vendors, and sponsors for helping us put on this event. We'd especially like to thank Best Way Disposal. There have been years where we could not have put the event on without their generous contributions," stated Austin. All proceeds from the event go towards the upkeep and maintenance on the Lynn Lions Park and the Little League Teams that they support.