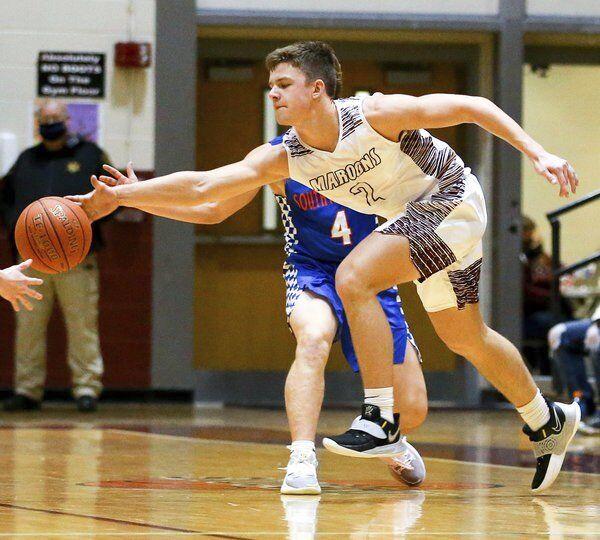 WINCHESTER – George Rogers Clark could be one of the better boys high school teams in the state, and they proved it with a 86-48 win over Pulaski County High School on Friday night.
The homestanding Cardinals have breezed through their first eight games with a winning margin of 23 points per game. The GRC Cardinals are averaging 90 points a game. And while it may be no consolation to Pulaski County, the Maroons held the Cardinals to their lowest scoring total of the season.
The Cardinals built an early 25-10 first-quarter lead before extending it to 64-35 by the end of the third period.
Pulaski County junior Zach Travis led the Maroons with 14 points and hit four three-pointers. Sophomore Cayden Lancaster scored 10 points and hit two treys.
Junior Caleb Sloan scored 9 points, and senior K.J. Combs added four points. Senior Dalton Bertram, sophomore Barek Williams and seventh-grader Carson Fraley all scored three points each. Sophomore Kameron Hargis scored two points.
Pulaski County (5-3) will travel to Madison Southern on Tuesday, Jan. 26.
STEVE CORNELIUS is the CJ Sports Editor and can be reached at sports@somerset-kentucky.com. Follow him on Twitter at @CJSportseditor.