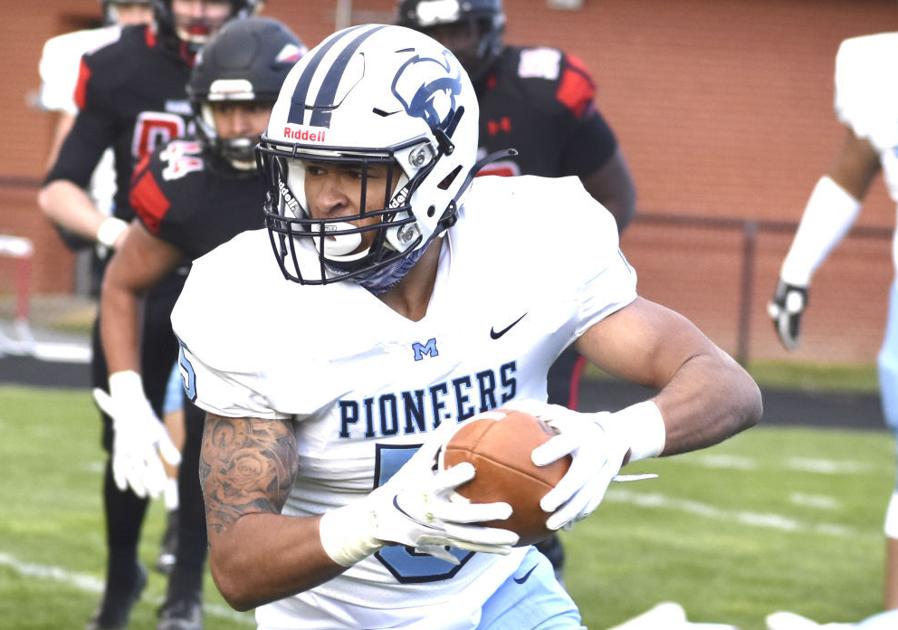 After being spun down to the ground near the 30-yard line by a Sherando defender during a play that was almost a sack, Millbrook sophomore quarterback Detric Brown was able to stand up and start yelling.
Brown's quick-thinking flick downfield had produced a 22-yard touchdown pass to Josh Mihill in the second quarter and a 14-7 lead. The Pioneers would manage only three more points after that score in a 31-17 loss. But if Brown continues to play like he did against the Warriors, Millbrook could have a lot more to celebrate tonight.
The Pioneers (0-1) host Fauquier (2-4) at 7 p.m. tonight in Millbrook's home opener. The Falcons have played six games because they've been competing since the start of the Virginia High School League season.
For Fauquier, tonight is a VHSL "Plus One" contest, which was created to give teams that didn't make the regional playoffs a chance to play an extra game. Frederick County elected not to start playing games until April 1 due to COVID-19 concerns.
Millbrook will be led into the contest by Brown, who in his first career start completed 25 of 37 passes for 305 yards and no interceptions to go with that TD pass against Sherando. On a cold and windy night, Brown completed passes to six different players, with Braden George (seven catches or 104 yards) and running back Diante Ball (nine catches for 103 yards) serving as his favorite targets.
"He played really well," Haymore said. "His decision-making was really good. There's a lot of things we can get better at with that decision-making. As he grows, he can get better at reading defenses and be able to make decisions based on what the defense gives him."
Naturally, Millbrook wants to see a better overall team effort in Week 2, and Haymore said some of the things the Pioneers have been emphasizing this week are communication between the different positions and between coaches, and working on player alignment.
The Pioneers will be taking on a Fauquier team that has lost four straight games, but has been competitive. The Falcons lost by 10 points to Handley and by three to Culpeper County in overtime, and are coming off a 22-0 loss to Liberty.
"They're consistent with what they do on offense, defense and special teams," Haymore said. "Consistency helps any kid play hard, and they play hard."
Haymore said he's particularly impressed with quarterback J.T. Diehl.
Sherando had success running the ball against Millbrook (54 times for 309 yards), but that was mostly with their running backs. The Falcons rely a lot on their passing game, and when they do run, they mostly do it with Diehl. Fauquier had 24 carries for 44 yards against Handley, when Diehl threw 32 times. In last week's loss to Liberty, Diehl was 5 of 28 for 50 yards and three interceptions.
"Diehl is also a safety, and he's just all over the film," Haymore said.
The Falcons have scored only 20 points in their last four games, two of which were shutouts.
Linebackers Jack Winans and Aidan Long led the Pioneers with 12 tackles each last week.
"We just have to not think and play fast," Haymore said. "We thought a bunch last week. And on the defensive side of the ball, you don't want to think, you want to react, and just play fast.
"We made first-game mistakes, and hopefully we're better with that this week. In practice, we've done a good job with it."
Haymore just wants to see improvement from the team overall.
"We've told the kids that great teams get better from the first game to the second," Haymore said. "They take that as a challenge. Whether they win or lose the first game, they get better. I think our kids have really responded very well this week, wanting to get better. They're playing hard, asking questions and watching film."