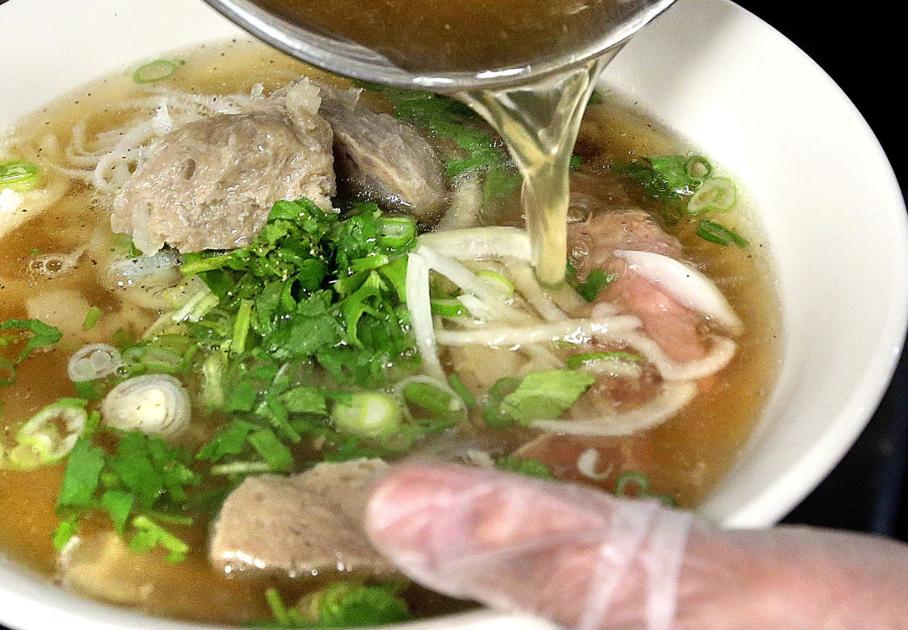 KERNSTOWN — What if there were a restaurant where you could order a big bowl of steaming hot pho and then follow that up with a slab of New York-style cheesecake? And what if your dining companion could start their meal with fresh spring rolls and then order the Italian specialty chicken marsala for an entree?
This fusion of Asian and Italian favorites can now be found at Pho Bistro Winchester, the new restaurant that opened in the former Firefly Cafe at 3035 Valley Ave.
"There's something for everybody," said manager Maria Anderson. "Not everything here is Vietnamese."
The thematic tie that binds these cuisines together at Pho Bistro is freshness, Anderson said.
"Everything is geared toward lovely, healthy flavors," said Anderson, whose professional background includes working in the fitness and nutrition fields. "Everything is being prepared right this second."
Taking center stage at the restaurant is the pho, the Vietnamese noodle soup made from bone broth. The broth requires 24 hours of cooking before it's ready to pour over meat, vegetables and rice noodles.
"The little slivers of meat literally cook in the broth," Anderson said. "That's the traditional way to make the pho."
In addition to the pho and chicken marsala, entree choices include Hoison-Glazed Drunken Steak Cubes and Seared Lemon Creamy Dilled Salmon.
On the appetizers side of the menu, Pho Bistro diners will find Crispy Spring Rolls filled with minced pork, clear vermicelli, mushrooms and carrots. The Fresh Garden Rolls are wrapped in rice paper and stuffed with steamed shrimp, lettuce, rice vermicelli and served with a peanut sauce.
The salad selection includes Herbed Couscous with apple bits and cucumbers, cherry tomatoes in a light vinaigrette as well as a Salmon Salad with mixed greens, feta cheese, crushed walnuts and a tangy dressing sweetened with Fuji apples.
Side dishes include mixed vegetables, herbed couscous, sauteed broccoli, green beans or rosemary roasted potatoes.
And because life is all about balance, for dessert there's New York-style Cheesecake (a low-carb treat) and Chocolate Flourless Torte Cake.
The restaurant opened its doors in early February, and the staff spent weeks perfecting the food and the service before Anderson felt the business was ready to advertise widely.
"All the kinks are out now," Anderson said. "And we are ready to go."
Pho Bistro Winchester is open from 11:30 a.m. to 8 p.m. seven days a week.