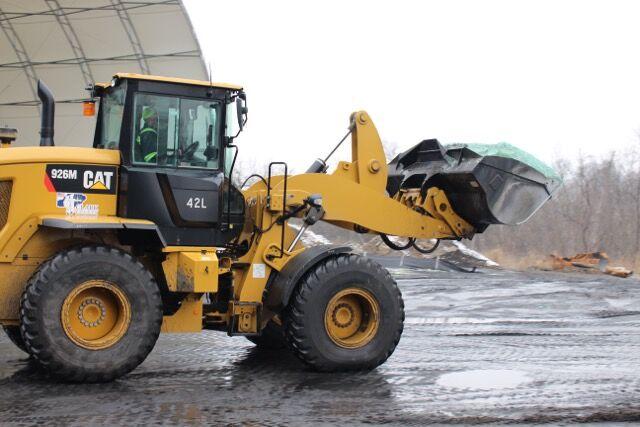 SOUTHERN INDIANA — Hours ahead of uncertain and potentially severe winter weather, Southern Indiana made preparations for whatever is headed this way.
As of Tuesday afternoon, the National Weather Service had issued an update to the hazardous weather outlook for the Louisville area to expect a light wintry mix starting after midnight, with Wednesday and Thursday expected to bring a "wintry mix of rain, freezing rain, sleet and snow," with heavy ice and some snow accumulation, although forecasts as of Tuesday showed more of an ice impact in central Kentucky.
But the possibility for harsh or damaging weather, which is also expected to be followed by bitter cold, had residents and organizations taking necessary precautions.
KEEPING ROADS SAFE
Clark County Highway Department Superintendent Tim Cochran said crews started Monday and worked overnight to pretreat with salt or brine the roughly 100 miles of county roads and 50 bridges it's responsible for and were prepared to go out again as needed.
"I told them to make sure their hills and intersections are all covered," Cochran said of the road crews. "They're in every hour or half hour" to get a refill at the county garage.
Although the weather is uncertain and changing, the county follows multiple sources to stay on top of what's ahead, including local news and a weather and emergency app the county subscribes to. Between those, "altogether we have a pretty good idea of what's going to happen," Cochran said early Tuesday afternoon.
Floyd County Emergency Management Director Kent Barrow said road crews had already been brining the roads — which will last up until a certain temperature. What happens next with snow or ice will dictate how they react.
"Depending on how much snow we get is how [crews] handle whether they blade it off or leave it," Barrow said. "If there's ice underneath it and you take the snow off, then you take the traction away."
But. he added, that he doesn't expect as much ice in Southern Indiana as what could be seen in Kentucky, and that "with this, there's not a whole lot you can do to prepare for it; just make sure you've got the people in place and you're ready to go."
EMERGENCY SHELTER
Charlestown Mayor Treva Hodges and staff were preparing the city's Arts Enrichment Center on Water Street to be quickly turned into an emergency shelter if residents — especially those who are elderly and/or have medical conditions — lose power from a big influx of ice. City staff had cleared the main area Tuesday and were taking in generators. They'll have cots in place if needed; the space can safely hold about 50 people.
"We've got to keep in mind we're still under COVID so we have to be careful," Hodges said. "I think we could comfortably fit 50 in the sanctuary."
The Homeless Coalition of Southern Indiana's white flag shelter will likely be in operation for the coming week and beyond — it is in place any time temperature (or windchill) is expected to be at or below 35 degrees for four hours or more overnight.
The current location is at Springdale United Methodist Church, 930 Springdale Drive in Jeffersonville. Check-in on white flag nights is from 7 p.m. to 10 p.m., with checkout at 7 a.m. TARC line 71 goes past the church and provides free transportation there.
For cold days ahead, the Salvation Army will have warming stations open from 9:30 a.m. to 3:30 p.m. Thursday and Friday, although Saturday has not yet been determined. Anyone in need of a warm place to stay during those hours can go to the Salvation Army at 2300 Green Valley Rd. in New Albany or the organization's thrift store at 528 Little League Blvd. in Clarksville.
"It's just important to have a place where the homeless community or people who may not have access to a warm place to go during the day to have a place where they are not going to get kicked out or they're not going to have a problem," said Salvation Army Capt. Catherine Fitzgerald. "We just want to be a welcoming place."
The New Albany Floyd County Animal Shelter has straw available for people to help keep outside animals' spaces warm, which is better than cloth since it will stay drier and be a better insulator.
But shelter director David Hall recommends that animals that can be taken in should be during the cold. If you seen an animal outside you have concern for, you can call the police or your local animal shelter.
"If it's too cold for you outside, it's probably too cold for your animal," Hall said.
WEATHERING THE STORM
Southern Indiana residents watching the ever-shifting weather coverage made sure to stock up and prepare their own homes, too — with food, batteries, candles and ice melt, and by taking in wood. One woman said she had made sure the outdoor animals on her farm had plenty of straw and shelter to escape the wind; she also bought pet-safe ice melt.
More than one person commented that they were better prepared for a winter hibernation bad weather can force just by the experience of the COVID-19 pandemic.
"If there is ever any winter storm I was prepared for, this is the one," one person said. "I've already been staying home. I have snacks. I have lots of comfortable clothing. I am ready."
Alli Jo Banta, a Jeffersonville resident who works from home, said when she went to the grocery Monday night it was already largely pillaged ahead of the winter storm, but that's on top of the already lower supplies of certain things in stores over the past year.
"I was actually able to grab a gallon of milk, surprisingly, and we got some cereal bars, some of the Little Debbie donuts the kids like, applesauce, — stuff that doesn't really have to be cooked," she said. "It's a lot less to choose from already; it's kind of just like get whatever you can."
She said the pandemic has made her family more seasoned to a bad weather event that could keep them home — they stocked up on board games when COVID hit and they've found new ways to have fun at home.
"It's definitely made the kids more imaginative," she said. "They aren't so bored all the time now; they find things to do in the house since we can't just be on the go like usual. So that's definitely helped."