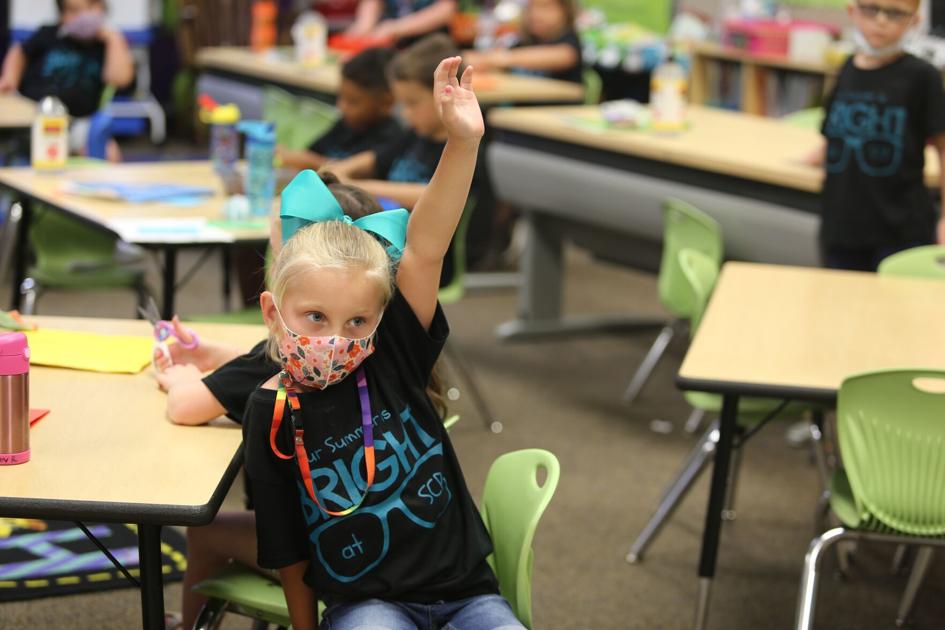 CLARK COUNTY — Recovering learning loss is a major focus for local school districts, and enrollment is significantly higher for summer school programs across Clark County this year.
The News and Tribune reached out to each school district in the county to learn about their summer school programming, including additional educational opportunities they are offering to offset challenges caused by the pandemic.
GREATER CLARK
Greater Clark Community Schools Superintendent Mark Laughner said the district is seeing an increase of about 10% in summer school enrollment across grade levels. He did not have the specific enrollment numbers available to the News and Tribune as of Tuesday afternoon.
"We feel good that offering summer school programming will impact student learning and achievement," he said.
The summer school program includes instruction across elementary, middle and high school levels — the district has previously offered summer instruction for each level, according to Laughner. 
However, he noted that the district is focusing more on intervention opportunities during the school year than major expansions to summer programming.
For example, the district is using the third round of federal stimulus money to hire more interventionists at the elementary and middle schools to work with students who are falling behind in both math and English.
Greater Clark has also hired a few more certified teachers at the high school level to help with credit recovery, which is one of the areas where the district has seen gaps over the past year.
Graduation rates for local schools will not be finalized until October, but Laughner said preliminary data shows high graduation rates across the high schools.
Charlestown High School is projected have a 97% graduation rate, Jeffersonville High School is projected to be at 96% and New Washington is projected to be at 97.8%, according to Laughner.
"That's up a little or about the same," he said. "We're very happy with those type of numbers considering we've been dealing with the pandemic all year, and I think that speaks to the work that our teachers, counselors and principals do in school in terms of tracking students."
SILVER CREEK
Thomas Brillhart, interim superintendent at Silver Creek Community School Corp., said Silver Creek Primary is serving 96 students, or about a quarter of the school, during summer school this year.
Summer school enrollment is also high across other schools in the district. Enrollment is 122 students for Silver Creek Elementary, 123 for Silver Creek Middle School and 86 for the high school.
In a usual year, Silver Creek summer school would consist of high school credit recovery with a range of about 40 to 50 students, Brillhart said, but it was expanded this year to middle and elementary school students.
"It's common sense that our students are behind because of the disruption we've had in learning since March 2020," he said. "It's a problem with every school corporation, and we are trying to target specific needs."
Although graduation rates have not been finalized, Brillhart notes that the district isn't projecting major changes to Silver Creek High School's graduation rate.
"Our teachers and administrators worked extremely hard to keep kids engaged and allow kids to be successful," he said. "When you have a physical barrier between yourself and a student, in some cases that barrier becomes the difference between whether that student stays engaged or not," he said.
"That is the task that every teacher is battling with online learning with the magnitude we were practicing that this past year," he said.
CLARKSVILLE
Clarksville Community Schools is offering a wide variety of academic programs and enrichment camps this summer.
Unlike previous years, summer school includes both middle and elementary school, in addition to the usual high school credit recovery.
Summer school enrollment includes 89 students at the elementary, 40 students at the middle school and 60 students at the high school.
A new program called Camp Invention, a week-long camp for high-ability learners, includes 83 students.
Clarksville Middle School Principal Nikki Bullington said the middle school program includes academic camps focused on areas such as math, language arts, social studies and social/emotional learning.
The academic camps are also occurring in conjunction with enrichment programs, which include camps for art, choir, band and science.
These opportunities are helping address gaps caused by the pandemic, including the challenges of virtual learning, Bullington said.
"The participation has been good, and kids are having a fantastic time," she said. "We've been able to do a lot of things we couldn't get to this year because of the pandemic."
BORDEN-HENRYVILLE
Borden-Henryville School Corp. has a total of 160 kids enrolled in summer school across elementary, middle and high school, according to Interim Superintendent Sam Gardner.
It is one of the largest summer school programs the schools have ever seen, and like many other districts, this year includes the addition of new middle school and elementary programs.
"We have more money to provide summer programs with the COVID-19 relief, and this is what the money is designed to do — to help kids catch up on learning and make up for the credits missed," Gardner said.
The district is seeing a particular need to help students catch up with math skills, he said.
"We are in the process of receiving our results from standardized testing completed in the spring, and math learning has probably more than anything suffered," he said.
Graduation rates for 2021 are expected to be between 90% to 100%. Gardner projects the rates to be "on track" compared with previous years.
At the high school level, there was a higher percentage of kids who did not pass their classes over the past year.
"They did a lot of remote learning and got behind, so it's important for them to catch up credits," Gardner said. "That would be a major emphasis in summer school to help them catch up."