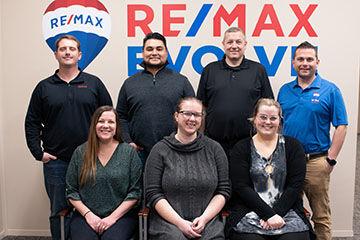 Brody Tarter, Owner of RE/MAX Evolve, was recently recognized as one of four RE/MAX Broker/Owners of the Year in the state of Indiana. The Winchester office was also honored as the top office in the state for Per Agent Productivity. 
This award is presented to RE/MAX Broker/Owners for their company growth in a single year. It recognizes the talent and dedication that Tarter has shown for recruiting and retaining top performing agents to RE/MAX. Candidates for the award are selected based on office growth and number of offices. Awards are presented to both single office, and multi office owners. 
The Per Agent Productivity Award is presented to a RE/MAX office and recognizes the agents for the number of closed transactions in a single year. This award honors the office with the highest number of transactions per agent. Tarter's team of agents and employees includes Michael Kress, Matt Glentzer, Jairo Correa, J.D. Prescott, Marsha Byrum, and Miranda Fields. This team managed to out perform over 3000 RE/MAX agents throughout the state of Indiana to win this award.
The awards were presented to RE/MAX Evolve by RE/MAX INTEGRA, the regional entity that supports RE/MAX franchises in Indiana, Minnesota, Wisconsin, Maine, New Hampshire, Vermont, Connecticut, Massachusetts and Rhode Island. Tarter is one of only four RE/MAX Broker/Owners in Indiana that were presented with this prestigious award.
Tarter has also been active in efforts to improve his community. He has purchased and began renovations to downtown buildings and was instrumental in the renovation of the Muncie Mission's Attic Window location in Winchester. His office is also one of the sponsors of the blessing box located near the corner of Franklin and Meridian Streets in Winchester. Tarter founded RE/MAX Evolve in 2018. Since then, the locally owned and operated full-service real estate brokerage has grown to include 5 employees and 6 agents. RE/MAX Evlove specializes in listing and selling residential and recreational real estate properties, as well as on-line auctions. They also offer residential and commercial property management. Find out more about RE/MAX Evolve by visiting their website at www.gowithevolve.com.